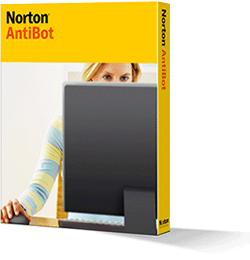 From Symantec
:
Norton AntiBot
provides advanced, real-time protection against emerging threats, including
bots that are used to perpetrate identity theft and other online crimes. This powerful new
security solution from Symantec detects unusual behavior on your PC and removes the malicious
bots causing it. This protects your PC from unauthorized access and tampering, detects and
stops attempts by hackers to take remote control of your computer, and delivers extra
protection against emerging 'zero-day' threats. To help ensure that you're always protected,
Norton AntiBot monitors your PC continuously to stop suspicious programs.
Version 1.0.838 may include unspecified updates, enhancements, or bug fixes.
Norton AntiBot provides a simple way to actively monitor the processes running on your
computer in order to quarantine or delete malware items. The program doesn't require an
active scan--once protection is enabled, it is monitoring your system in real time. As
a minor component in a full security suite, Norton AntiBot is a valuable tool for monitoring
active processes. As a full-fledged app, however, it lacks the power and features of similar
free applications that manage and monitor processes, ports, sockets, hosts, services, and more.
Unlike the bigger Norton security products, the AntiBot software installs very quickly and
plays nicely with other security software you may have installed. It is unfortunate that users
have to provide a valid e-mail address that gets added to a Symantec marketing list, but the
e-mail address does not have to be confirmed to download the installer.
The Norton AntiBot interface is divided into three main tabs. The Status tab displays the
activity of the application, including whether it is enabled, how many processes are monitored, and how many malware items are removed. The Advanced tab lists all of the processes that are monitored, allowed, or quarantined. Clicking on any of the items in the monitoring list will display useful classifications about the process on the right, such as "Window not visible," "Hidden on filesystem," or "Spawns other processes"--each of these classifications create a general safety rating for each process. The final tab, Settings, simply lets you specify your threat notifications, check for software updates, or buy the full version.
Norton AntiBot works adequately and is very easy to set up, but the features are limited when
compared with other software of the same ilk, most of which is free and uses a smaller memory
footprint. The inclusion of an on-demand malware scanner, or more details about Windows
Services, ports, and hosts, would make it more valuable, as would the more general utility
of managing processes by assigning priority. Norton AntiBot does not include its own
uninstaller, but all traces were easily removed by the Windows Add/Remove Programs dialog.
AntiCrash
is a program that can intercept and fix up to 95.8% crashes, errors, freezes and
blue screens. When a crash occurs, AntiCrash fixes it automatically; you have nothing to do!
New! AntiCrash now also includes a unique technology, AutoRepair. With AutoRepair, scan &
repair all your computer problems with a single click - AutoRepair automatically determines
what is wrong on your computer with an advanced Artificial Intelligence system, and fixes
it instantly.
AntiCrash protects your computer like no other software can. Not only AntiCrash protects
you against 95.8% crashes, but it also automatically fixes the crashes; you don?t have to
do anything, AntiCrash does all the work for you! AntiCrash is also the only software capable
of intercepting blue screens and freezes.
[
Download Anticrash + Norton Antibot + Serials
]
password: www.tejaswi-solutions.blogspot.com (If Required)